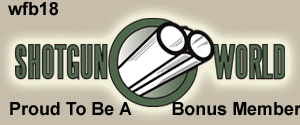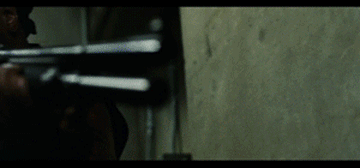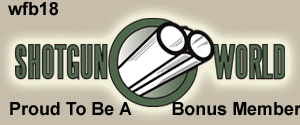 It is the tradition that a Kentuckian never runs. He does not have to. (1931)


The "Kentucky Carry" Shotgun


Or Skip To Pistol Grip Only - PGO Shotgun Technique • Knoxx BreachersGrip • Cavalry Arms Oversized Safety • TruGlo Tritium/Fiber Optic Front Sight • LaserLyte Tri-Rail Mount • LaserMax Uni-Max Red Laser • KA-1212 muzzle brake/flash suppressor • Single Point Slings • Ammunition • EOTech news • Kel-Tec PLR-16 •
I have a low-recoil Knoxx BreachersGrip™ on my "Kentucky Carry" Mossberg 500 Cruiser J.I.C. with an 18.5" barrel. In range practice, I deliberately fire many series of six shots in five seconds or less, all 20'-25' to the silhouette, and I have absolutely NO discomfort or wrist pain, thanks to the Knoxx BreachersGrip. (The Federal Tactical LE132 reduced recoil 00 buckshot works for me, way better than economy Royal RIO full power 00 buckshot.)
Anyone that can legally own a shotgun can affordably equip a suitable short-barreled $200-$300 Mossberg or Remington with a $75 Knoxx BreachersGrip™ and proper sights, and then learn to repeatedly fire his pistol-gripped shotgun painlessly and accurately to about ten yards. This proposal runs counter to current popular belief. But seeing is believing.
Some people might like a better way to shoot a pistol grip only - PGO shotgun or want one for a heavy artillery truck or car gun. With practice a stocked shotgun can effectively be fired below the line-of-sight at chest level. For more information go to Pistol Grip Only - PGO Shotgun Technique. I specifically recommend that stocked shotguns are best for HD. If anyone would like to practice an effective way to shoot a PGO shotgun, they can practice with a stocked shotgun with the stock tucked under the arm.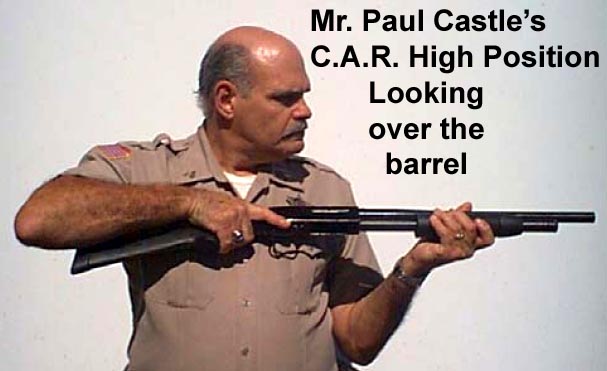 The most satisfactory way to shoot a PGO shotgun is from chest level, rather than hip shooting or eye-level bead shooting. Chest-level shooting is the fastest possible shotgun technique for close quarters and the best way to painlessly control the recoil of a PGO shotgun. Because the PGO shotgun is held horizontal to the ground at chest level, the odds of hitting a BG at his chest level, at his center of mass, from 20'-25' are right at 100%. Basically, one holds a PGO shotgun parallel to the ground at chest or nipple height, while standing in a bladed or boxer's stance, front knee slightly bent and hips turned 45 degrees. The arms are held just like in the pictures below. The arms swing together naturally and control the recoil. The left arm of a right-handed shooter works the forend, elbow bent comfortably about 90 degrees and the forearm a little more than perpendicular to the forend. The right elbow swings straight back, and not off to the side. The arms are NOT braced, so they can swing naturally and absorb the recoil. (The arms are NOT trying to "stretch" the PGO shotgun like Mr. Herb Parsons did shooting at eye-level.) Also, one leans the receiver about 30 degrees towards his chest, and his head looks down the barrel, about 6" above the barrel. This is NOT sighted fire, using the sights, but it is not "point and shoot" either. With familiarity from practice looking down the barrel which is 6" below the line of sight when firing, one subconsciously can learn how to effectively aim a PGO shotgun to about ten yards away. Practice, practice, practice, so that as Mr. Jim Cirillo taught, your subconscious mind will pick up all the little visual subtleties of how the barrel looks when it is correctly aligned with the target and hits it as you intended.